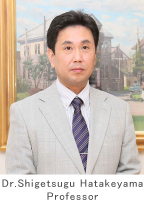 Department of Biochemistry (formerly Biochemistry II), established in 1963, is one with tradition and history, having been led by professors You Imai and Teruo Ishibashi, renowned for their work on lipid research.
Since 2004, with the leadership of professor Shigetsugu Hatakeyama, it has been conducting research on the degradation control of proteins with a focus on ubiquitination, a post-translational modification of proteins.
Related fields of research include fundamental biology fields such as cellular biology, immunology, neuroscience, and molecular biology, and clinical fields, including cancer and neurodegenerative disease.
Ubiquitin, as a system of intracellular protein degradation, has a history of barely 20 years, and, less than a 10 year history as a new field of biology since the discovery of its related enzyme systems on a molecular level. Further, it was only recently that, aside from protein degradation, other functions, such as endocytosis, translational control, DNA repair, histone control, etc., have become understood.
As for the objective of fundamental research, it is the identification and functional analysis of ubiquitination enzyme systems, additionally, as for clinical medical research, it is the investigation into the involvement of ubiquitination and phosphorylation with respect to diseases related to cancer, the immune system, and neurodegeneration, with a view to advancing research into prevention and cure.
---
Career
Mar, 1990 Hokkaido University Graduate School of Medicine, graduated
Mar, 1994 Hokkaido University Graduate School of Medicine (pathology major), completed
Apr, 1994 Washington University, Howard Hughes Medical Institute, Postdoctoral fellow
Jun, 1995 National Cancer Institute in USA, postdoctoral fellow
Mar, 1997 Kyushu University, Medical Institute of Bioregulation, Research Associate
Oct, 2000  Kyushu University, Medical Institute of Bioregulation, Associate Professor
Jul, 2004 Department of Molecular Biochemistry Hokkaido University Graduate School of Medicine, Professor
Apr, 2007 Department of Biochemistry, Hokkaido University Graduate School of Medicine, Professor
Apr, 2017 Department of Biochemistry, Faculty of Medicine and Graduate School of Medicine, Hokkaido University, Professor
---
Society activity
Japanese Biochemical Society (Councilor), Japanese Cancer Assocoation, The Molecular Biology Society of Japan
---
Specialized areas
Protein post-translational modification (ubiquitination and phosphorylation)
Protein degradation control (ubiquitin - proteasome system)
Protein modification in signal transduction
Ubiquitination in the control of cancinogenesis